Years after years, Jailbreaking has changed quite a lot and people now use jailbreak for customizing the overall look of their iOS, fixing annoyances, and enhancing the functionality of their iPad, iPhone or iPod Touch with different jailbreak apps for iOS 7. There are a lot of things that can be done with the iPhone jailbreak than you might imagine. If you don't know much about jailbreakingyet, then you might want to take a look at our how to jailbreak iPhone guide. But if you are already over this, then it's probably time to look at different handy jailbreak apps and start using your iPhone or iPad in a smarter way.
Jump To Section
Top 10 Jailbreak Apps For iOS 7
Let's take a look at the top 10 apps for jailbreak that we have assorted for you after considering their usability and the difference they can make to your experience of using an iPhone, iPad or iPod touch.
The first app on our list is Activator. It's probably the easiest option iPhone users have for customize button as well as multitouch functionality in their iOS7. With the latest version of iOS, one can also make triggers for TouchIDbutton in iPhone 5s. So, what exactly does Activator do?
Well, it lets the iPhone users to make their custom gestures for accomplishing different tasks. For instance, volume buttons can be made to launch some app or you can get to the home screen using pinky finger. With the maneuverability that it offers, Activator is really a must-have when it comes to iOS 7 jailbreak apps.
If you are an iPhone power user then you must have concerns about the battery life of your iPhone. Well, if that's the case then BatterySafe is exactly what you are looking for. As soon as your iPhone's batterygoes low, this app takes control and turns off any power-hungry features such as Bluetooth and Wi-Fi. Though there aren't many customization options available as of now, it is still one of the simplestoptions you have for automating the settings of your device and increase your battery life considerably. What's even better is that this app is completely free and you can install it simply by searching cydia.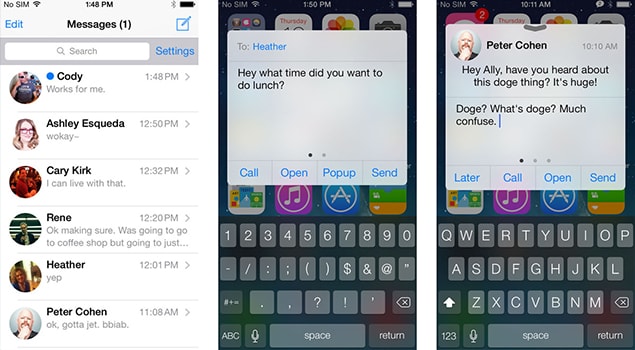 BiteSMS is also one of the favorites for many when it comes to best free cydia apps. With BiteSMS, you can easily reply to text messages instantly and can also initiate calls without having to leave the app you are currently using. BiteSMS 8, the app's version for iOS7, is still a beta version but it can work good enough to fulfill your messaging needs. No matter where you are in the iOS, you can reply to your messages or mark them for reading later. The power of this app is such that there are many who just jailbreak their iPhones for using it.
Quite expectedly, Control Center of the iOS 7 was the first think that app developers went after. There are some apps and tweaks already available for customization of Control Center, however, the best of them all is CCControls. There are lots of different options available in this app. One can change the preference toggles appearing in the Control Center, the way they appear, Control Center theme, and a lot of other things. It is also an easy set up app and doesn't require you to get into a lot of details.
It's a file explorer app that lets you manage your files and have access to each and every file you have on your iOS device. One of your best free cydia apps 2016, iFile allows you to move files to different locations, copy and paste them, edit them, import them to your device and upload them. It makes your life easier when you need to browse files and have access to any documents or other files you have on your iOS device.
The app can be downloaded for free and installed on your iOS 7 device.
SwitchSpring is the best option you have if you are looking to quit all the apps in one go using your multitasking tray. All you have to do is to swipe up on the home screen while using app switcher. Once you take this action, you're prompted to either quite the apps or simply restart your device. If you don't like the not-so-great way to close different apps in app switcher then SwitchSpring is certainly your must-have.
With the help of iCleaner Pro, you can be able to scan your device for any unnecessary files that may be lying there without any reason. It helps you clear up considerable amount of storage space by quickly deleting everything on your iOS device that is wasting space. A few examples could be message attachments, application cache, Safari cache, etc.
Want to enhance the security of your iPhone? iCaught U helps iPhone users to add an extra layer of security by allowing your device to snap a picture using front cam if somebody tries to access it with a wrong passcode. The app doesn't just help you by taking a picture, but also emails it to you you're your iPhone's current location.If you use a passcode on your device and your phone's security matters to you a lot – obviously everyone takes security seriously – then you should definitely have this app at your back.
Though you can enjoy using iCaughtUfor free, paid version is also there that is named iCaught U Pro and is available for just $2.50 and offers some extra features to the users.
Make your iPhone a personal Wi-Fi hotspot with the help of this handy iOS 7 jailbreak app. Once you do, your phone's data network will be shared with computers and other devices whenever you want. This app certainly turns out to be handy for those who love to stay connected all the time.
Make a search on Cydiaand download Tether Me now. You'll have to buy it for only $4.99.
Every one of us encounters this situation –your iPhone notifies you of something late night, and you literallyget blinded by screen brightness as soon as you unlock your screen. Don't worry;you have F.lux available now to solve the issue for you. The app adjusts your iPhone's display color for adapting better to a certain time of day.
Your eyes will really feel relaxed after installation of this app whenever you will put your iPhone in front of your eyes. It's a great app for you if you have a habit of using your phone right before going to sleep.
What's even better? The app is available on Cydia for free.
So, take a look at these iOS 7 jailbreak apps and choose a few that fit best to your requirements. You'll surely find them handy and they will enhance your experience a great deal.
Source:YouTube.com