With iPhone/iPad you have everything fitted right into your palm and your email is no exception either. Even if you have several accounts with different email services or there are several folders for managing your single email account better, your little gadget can help you like no other for keeping things pretty much organized. However, you may have to do some customizations in your Mail app for getting the kind of organization that you are looking for.
By customizing your mailboxes in Mail app won't just allow you to better manage your email accounts and mailboxes but will also let you check the important emails a lot quicker.
Jump To Section
What Is Mailboxes View For Mail App
Before we get into customizations that can be made with the Mail app for better organization, let's firs discuss what Mailboxes actually refer to. So, launch Mail app on your iPhone/iPad.
If there are pre-configured email accounts then the app will either open last viewed folder or your inbox. Here you will see back button on upper-left of the screen which takes you back to the "Mailboxes" view. It may have to be tapped several times for getting where you want.
When you are in primary view of the Mailboxes, it shows a list of different mailboxes that are configured on your Mail app. It is very much possible that you only need few of these mailboxes rather than all of them that are shown in the list. So, you can simply customize this list so that it only features those you need the most.
How To Customize Mailboxes View Of Mail App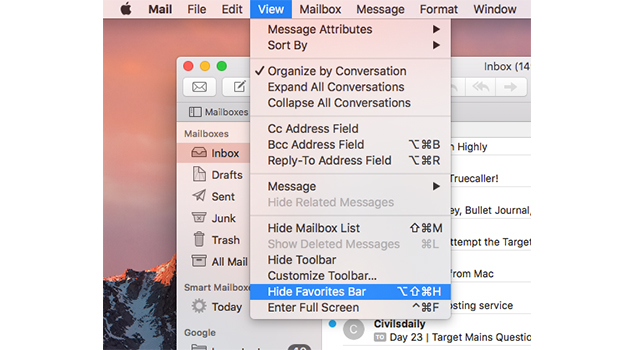 Follow these steps for customizing the Mailboxes view.
Tap Edit button visible on top right in Mailboxes view.
Now you will see a list featuring all your folders and mailboxes having blue-colored check circles against every entry. Tap circles for each entry that you want to be shown in the Mailboxes view.
If you want to deselect a few folders or mailboxesand don't want to include them in the Mailboxes viewthen tap on blue check right next to the entry to uncheck.
After completing the selections, click Donefor saving all the changes you made and now you will see Mailboxes view that is customized to show only those folders and Mailboxes that you want to view.
Besides this simple feature of hiding less frequently used Mailboxes, you can try a few more powerful tricks to have an efficient Mailbox. If there are several accounts configured on your iPhone/iPad then you can enable the "All Inboxes" option for viewing new emails as they arrive in different accounts from one single place. Similarly, "All Sent" option can be enabled to have a look at all the send mails from different accounts on one screen.
Similarly, you can also custom set options for viewing emails having attachments, VIP emails or unread messages separately in different Mailboxes.
How To Add Custom Mailboxes
It is very much possible to add custom mailboxes in your Mail application. For instance you may need one to keep special type of emails. Here is the procedure to add your new custom mailboxes.
On Edit Mailboxes view, scroll down to find "Add Mailbox".
On the next screen you can select the account under which you want to keep this new custom mailbox. Choose one of the accounts on which your desired emails land.
Now you will have to select the desired Mailbox or folder
Tap Done to see your selected Mailbox on Mailboxes view. Click "Done" once more and confirm.
Customizing your Mailboxes view and adding custom mailboxes can allow you to be more organized while accessing different email accounts on your iPhone/iPad using the Mail App. Besides better organization, you can do little tweaks to make things convenient for you.
Source: Youtube.com